The CAMPOS Mission Continues: Newly Inducted Scholars Add to Faculty Diversity
UC Davis is committed to CAMPOS: Center for the Advancement of Multicultural Perspectives on Science.
Campus leaders made that clear during the induction ceremony for the university's newest CAMPOS Faculty Scholars: Fawn A. Cothran, Wilsaan M. Joiner, Rose Kagawa and James A. Letts. They are new to UC Davis, recruited by CAMPOS in its mission to change the face of STEM by building faculty diversity in science, technology, engineering and mathematics.
"In a state with rapidly changing demographics like California, it's essential that we strive for inclusive excellence and equity," Chancellor Gary S. May said in his remarks at the induction ceremony held Nov. 7 at the Jan Shrem and Maria Manetti Shrem Museum of Art.
Under the leadership of founding director Mary Lou de Leon Siantz, professor in the Betty Irene Moore School of Nursing, CAMPOS established itself in 2012 as a research center to promote the discovery of knowledge by supporting women in science, starting with Latinas. "It continues to expand its mission by increasing multicultural perspectives in science that are diverse, inclusive and reflect our global society," de Leon Siantz said.
Original funding came from UC Davis ADVANCE, which in 2012 with a $3.725 million, five-year grant from the National Science Foundation's ADVANCE program. The federal funding has run its course, but CAMPOS remains in place.
"University leadership believes that the important work of CAMPOS must continue and become even more impactful," Ralph J. Hexter, provost and executive vice chancellor, said at the ceremony. "Given that the program must first be sustainable if it is to survive and advance, we are very happy that CAMPOS has moved from its original home in ADVANCE to operate as a joint program of the Office of Diversity, Equity and Inclusion and the Office of the Vice Provost for Academic Affairs. "This administrative migration will increase the stability of CAMPOS and give it a secure home at the center of university operations."
Today, de Leon Siantz continues as the CAMPOS director, working closely with Raquel Aldana, associate vice chancellor for Academic Diversity; and Phil Kass, vice provost of Academic Affairs.
Acknowledging "how far we have come in the seven years since UC Davis received its landmark ADVANCE award," Kass took time to recognize the people who were instrumental in making it happen: Linda Katehi, chancellor emerita and distinguished professor, and principal investigator; Linda Bisson, professor emerita and ADVANCE co-director; and co-principal investigators Adela de la Torre, vice chancellor and distinguished professor emerita; Karen McDonald, professor; Ray Rodriguez, professor emeritus; and Maureen Stanton, vice provost and distinguished professor emerita.
"Our university understands the importance an institutional transformation grant has in permanently altering its academic landscape," Kass said. "Successful new programs mean little without an enduring legacy that is assimilated into the DNA of this university, so that they can live on and evolve along with the university's community.
"Academic Affairs is proud to play a role in the sustainability of the components of our ADVANCE program — ones that we believe in, and that meaningfully touch the lives of our colleagues."
'Exactly what this campus needs'
CAMPOS has inducted 25 CAMPOS Faculty Scholars since 2014. "They are expert minds and role models that our scientific community needs," Chancellor May said. "They are exactly what this campus needs."
Regardless of their academic disciplines, Chancellor May said, each CAMPOS Faculty Scholar has a key thing in common: "They are not only grooming the next generation of scientists, they serve as role models and mentors to attract minority students interested in STEM to UC Davis.
"They are also a great inspiration to those who are already here. They're showing that success in STEM can take on many faces, many backgrounds and many perspectives."
Hexter recognized CAMPOS for the many ways it seeks to increase the visibility of the Faculty Scholars and create a community of inclusive excellence.  For we know that it is not enough to open the door to multicultural perspectives through hiring alone. If a university is to equitably serve its faculty, it must create the conditions necessary for all faculty to succeed, excel, and thrive."
Below you'll find information about College of Biological Sciences CAMPOS scholars.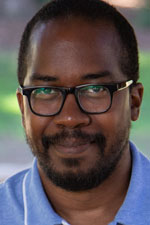 Wilsaan M. Joiner, assistant professor with a dual appointment in the Department of Neurobiology, Physiology and Behavior, College of Biological Sciences; and Department of Neurobiology, School of Medicine — He studies how we use different sources of information to aid behavior, ranging from visual perception to movement planning and updating. Specifically, his laboratory is interested in how external and internally-generated sensory information is integrated in healthy individuals, in comparison to certain disease and impaired populations (e.g., schizophrenia and upper extremity amputees).
Previously, Joiner served as an associate professor in the Department of Bioengineering, George Mason University. He holds a Bachelor of Science degree in biomedical engineering from Saint Louis University and a Ph.D. in biomedical engineering from the Johns Hopkins School of Medicine.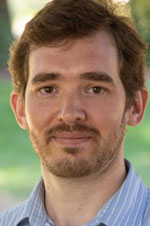 James A. Letts, assistant professor, Department of Molecular and Cellular Biology, College of Biological Sciences — His research program focuses on how the body converts energy from the food that we eat into a form that can be used by cells across many essential processes. He seeks to characterize the structures and functions of important membrane proteins involved in energy conversion in order to learn about how they work and how their dysfunction results in disease.
Before UC Davis, Letts was a Marie Skłodowska-Curie Fellow at the Institute of Science and Technology Austria, where he studied the structure and function of large membrane protein complexes of the mitochondrial electron transport chain. Letts holds a Bachelor of Science degree from the University of Victoria and a Ph.D. from The Rockefeller University, where he worked in the Laboratory of Molecular Neurobiology and Biophysics.
CAMPOS Hall of Fame
The CAMPOS ceremony also included the inaugural presentation of the CAMPOS Hall of Fame Award, given to Professor Emeritus Raymond L. Rodriguez, Department of Molecular and Cellular Biology, and director of the National Institutes of Health-sponsored Center of Excellence for Nutritional Genomics at UC Davis.
The award recognizes his exceptional contributions to science, his multicultural perspective and his work in paving the way for diversity in science.
His own path began in the fields of the Central Valley, where, from the age of 6, he joined his family in picking cotton, grapes, cantaloupes and tomatoes. His last farm work was in 1965, when he picked grapes to raise tuition to attend Fresno City College. From there he went to California State University, Fresno, for his bachelor's degree and UC Santa Cruz for his Ph.D. in genetics.
Today, he is working with CAMPOS Director Mary Lou de Leon Siantz to put together education and training proposals aimed at transforming farm work into a high-tech, high-skills occupation — given the "smart farm" technology that is already being introduced. "Without a transformation of the farm labor work force, we are going to see massive displacement of farmworkers and their families," Rodriguez said. "We have to make this a win-win for farmers, workers, their children, as well as for consumers."
Rodriguez and de Leon Siantz foresee a pipeline that includes middle and high schools, community colleges and universities that provides training for different levels of ability and attainment.
This story originally appeared on Dateline UC Davis.
Primary Category
Tags